Last week, I discussed the Nintendo Switch's battery life and Nintendo's decision to push further details until 2017. Well, it didn't take long for a flood of information to follow my blog post. Let's catch-up on what we have learned about the new console:
January 12, 2017 – That's when Nintendo will take the stage and unveil the system price, details, games lineup, and launch date, during a live-streamed presentation from Tokyo.
Nintendo expects to ship 2 million consoles worldwide in March, but can increase production if demand warrants.
The docking station will not be sold separately and does not add additional processing power to the tablet.
So, while many were outraged that Nintendo would only provide a 3 minute trailer in 2016, I give props to Nintendo for at least calming the wave of "When will they show the Switch?" next talk over the holiday season. Even so, we must wait yet another 75 days for lingering questions to be answered. That's not stopping the many pundits from speculating further on the Nintendo hybrid console.
On Switch: Nintendo CEO says company won't make loss by selling it; but also listening to what consumers expect from us when setting price.

— Takashi Mochizuki (@mochi_wsj) October 26, 2016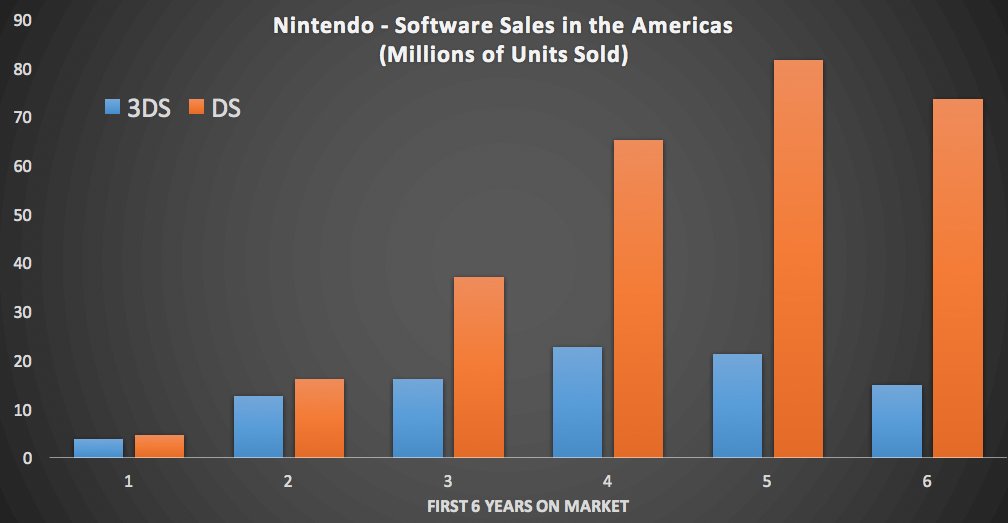 So much for not having anything to talk about, right? Nintendo President Tatsumi Kimishima has responded to many investors' questions, as well as public interviews with the media, in the week following the reveal of the Switch. His responses have led many to speculate about the future of Nintendo. It is obvious Nintendo needs to change how it conducts business and its position in the video game market. Even with the exception of the Wii generation, the company's hardware products have been on a steady decline in sales for decades with the latest Wii U serving as "rock bottom." Nintendo's investor briefing even showcased how the 3DS is failing to live up to the original DS sales numbers in years 3-6. Kimishima addressed the current climate at Nintendo in an interview with Bloomberg Technology:
"Switch, a new console that the Kyoto-based company will start selling in March, will be at the center of an entertainment web that will include mobile gaming, theme parks and merchandising. Three years ago, all of us together — the previous president, Genyo Takeda (technology head) and Shigeru Miyamoto (creative head) — created a plan to revitalize our business, which included smart devices, our new hardware and maximizing our intellectual property."
The Nintendo Switch doesn't represent Nintendo's last grasp to attract gamers to adopt its platform. With the Switch, Nintendo is providing a product that embodies the transformation the company itself is currently undergoing. No longer is Nintendo's revenue solely focused on hardware sales of their portable and console hardware. By embracing mobile devices with Nintendo apps and games like Pokemon Go & Super Mario Run, Nintendo has effectively added a whole new avenue to introduce gamers to Nintendo brands and products. Nintendo has already proclaimed that the upcoming Pokemon Sun & Moon is the most pre-ordered Pokemon game of all time-  a feat that has to lend some credit to the smash success of Pokemon Go. With the Switch, Nintendo is providing a product that it hopes will still appeal to video gamers who want to continue playing games the old-fashioned way. For the first time, Nintendo will be able to offer 100% of its content to a dedicated device, as I presume the smartphone games will also be playable on the Switch device, in an attempt to build an install base that's large enough for third-party partners to find financial success. Third parties showed an interest in publishing for Nintendo platforms, regardless of power, when there was an avenue for financial success. The DS and the Wii both had 3rd party support, even though the hardware wasn't as 'powerful' as the leaders on the market.
About That Power
An article over at Arstechnica.com takes a deep dive attempt to convey how switching (no pun intended) to a Tegra based device can benefit the company in the long run. While current devkits are running the Tegra X1 chip set, Arstechnica speculates that the custom Tegra processor in the final model will be the newer Tegra X2, or a close iteration of it. This could explain why the Switch is launching in March instead of this holiday. I honestly have no clue about the technology in question, but I think it's safe to guess that, if the Switch is using a newer chip set, it stands to reason that the price could be more expensive.
According to a famous Japanese gaming journalist, the Nintendo Switch will likely the NVIDIA Pascal 'Parker' architecture for its GPU, and the Tegra chip inside the platform could help the Switch evolve just like the PS4 and the PS4 Pro.

The custom NVIDIA chip will feature a floating-point performance around 1 TFLOPS
There is almost "no possibility" that the Switch will perform above 1.5 TFLOPS due to the battery drive inside the Switch
Emily Rogers has also weighed in on the Switch specs;
Alright. I have some good news. I can confirm that Switch has 4GB of ram in RETAIL units. Not just the dev kits. Double the Wii U's ram.

— Emily Rogers (@ArcadeGirl64) October 30, 2016
So what can we expect for power? Not as much as your current Xbox One or PlayStation 4. When released, the Tegra X1 chip was the first chip capable of 1 teraflop performance. Currently the Xbox One is capable of 1.3 teraflops, while the PS4 is capable of 1.84 teraflops. With the Switch's custom Nvidia Tegra chip reportedly near the 1.5 teraflop range, it will be in the ballpark of current gen consoles. Double the Ram as Emily Rogers reports and it's definitely much stronger than the current Wii U console. The question that still remains is, "Do gamers value portability enough to concede any graphical performance?" Regardless, the Nintendo Switch is still going to be a generation behind when the PS4 Pro and Xbox Scorpio become household names.
Or is it? Also of note in the Arstechnica report, Nintendo's move to a Tegra environment will enhance Nintendo's ability to support the Switch brand for generations, if they so choose. So, while the Nintendo Switch that launches in March 2017 could feature the devkit Tegra X1, who's to say next year the core tablet isn't replaced by an upgraded Tegra X2 the following year? This move into the smart-device realm could allow Nintendo to justify increased performance alterations to their core Switch tablet while still providing a level of backwards compatibility as customers have grown accustomed to with iPhone and Android devices for years. We've already seen Nintendo implement their family of 3DS devices (3DS, 3DSXL, 2DS, New 3DS, and New 3DSXL), so maybe this move to a smart device appearance could provide an opportunity to implement annual upgrades.
Needless to say, the Nintendo Switch deserves to be included in this generation of devices and probably can hold the title of "Most Powerful Portable Device," but will that be enough to sway your wallet? Sound off in the comments below, and thanks for stopping by Play Some Video Games. Stay tuned for my third and final chapter, "My Nintendo Switch Reservations," next week.